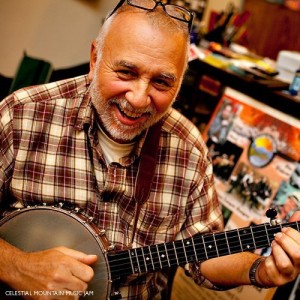 ​For most of his life, woodworking has been a passion for CMB founder Lo Gordon. In 1993 Lo and his wife Mary sold their custom wooden garage door business and moved to Brevard, NC to pursue their dream of opening a music store and starting a business making open-back banjos. At the time of the move, Lo had been playing banjo for a number of years and had made several banjos for himself.

Having moved to North Carolina, Lo and Mary opened their music store Celestial Mountain Music in downtown Brevard, and started Cedar Mountain Banjos in 1996. In the midst of this transition, they continued to perform in their family band with sons Tim and Matt Gardner. Over the years, the music store became a central hub for the vibrant local music scene. In 2013 Celestial Mountain Music changed ownership and is now Southern Comfort Records, and continues to offer top-notch instruction and instrument repairs in the same historic downtown location. Lo and Mary are still active in the old-time community. You can look at Mary's instructional books at 
marylgordonfiddler.com
.

Meanwhile, open-back banjo players and aficianados around the globe began to take notice of the fine artisanship and design of Cedar Mountain's offerings. Today notable players such as Sheila Kay Adams, David Holt, Mary Z. Cox, Hilary Dirlam, Steve Smith, Diane Jones, Ernie Williams, Al Petteway and Linda Williams play Cedar Mountain banjos. CMB was featured in the 2011 
North American Banjo Builders
 documentary series by Craig Evans, which is available at Smithsonian Folkways.

Cedar Mountain Banjos: A New Generation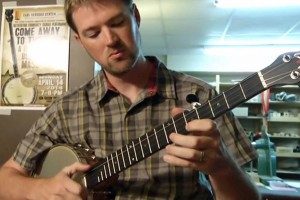 In 2005 Lo's son Tim Gardner, a graduate of NC State's School of Forestry, started with Cedar Mountain Banjos after working several years as a timber framer and house carpenter. Having built nearly 400 banjos since 2005, he continues to manage the company full-time, focus on new concepts, and maintain CMB as an industry leader for fine design, craftsmanship, and customer service. In September 2013, Tim took over ownership of CMB and moved the workshop to the new Mills River location just outside of Brevard.

Tim is an in-demand acoustic musician, producer, teacher and recording artist around the Asheville-Brevard area. For more information about Tim's musical projects please visit 
coyoteridgeaudio.com
. In addition to being a full-time builder and musician, Tim enjoys hiking, cycling, travel, and spending time with his wife and young daughter.